The drawing of a six-year-old boy and the teacher's response to it generated a lot of discussion online and split users' viewpoints.
In particular, the parents who told this tale described how a teacher had contacted and asked them to come to the school for a serious discussion.
When asked whether he did anything wrong before they left for their son's school, he simply said that his teacher didn't like the drawing he had made.
I asked him to draw his family, and he drew this, would you mind explaining?, his instructor remarked when we returned the following day, the parent wrote on social media.
In the drawing, four persons with cords around their necks appeared to be. The drawing itself does seem ominous if one didn't know what the youngster was trying to depict.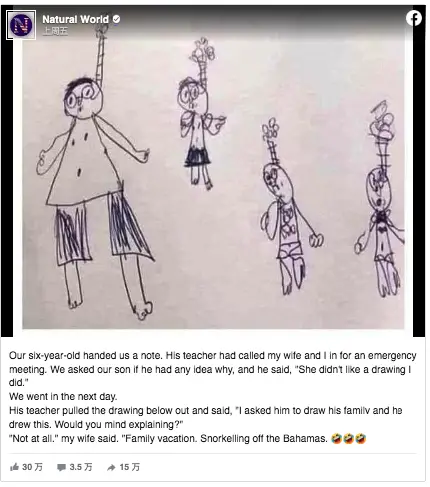 The family was actually pictured snorkeling off the Bahamas, according to the mother and father.
However, the dad's tweet sparked a debate online about whether the teacher's action of worrying them about the artwork was appropriate or not.
Some people complained that she ought to have first questioned the child about it, while others countered that a six-year-old could not possibly be telling the truth.
One commenter called it "bloody hysteria." Who wants that drama, really?
What's this about an emergency meeting? Although it's not the nicest drawing, I believe it to be fairly apparent. Added a different user.
Another person questioned, "What kind of a teacher was this?" Children are innocent; they enjoy painting innocent pictures.
The teacher's response was supported by comments such, "I would want to know, even if it's a false alarm… "The teacher made the right decision," and "Better safe than sorry." These treatments have prevented fatalities. Seriously."
What do you think about this?